Josh Mather
[Alum Josh Mather worked at Clocktower Law from 2002-2008. From 2008-present, Josh has been working at patent firm Chapin Intellectual Property Law LLC in Westborough. We enjoy reunions about every six months, coinciding with Josh's dental appointments.]
Bio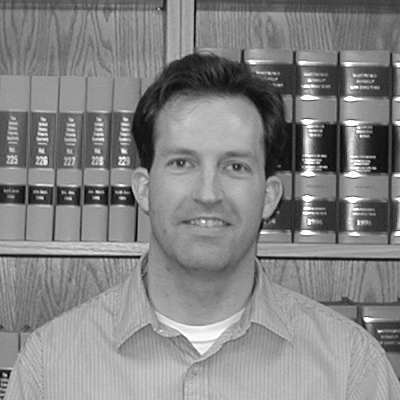 Joshua Mather's 15 minutes of fame will be next year. Probably in April. And probably on April 1st. Joshua D. Mather is a patent and trademark attorney focusing on preparing and filing patent applications. He also provides support for trademark matters. Prior to law school, Joshua studied civil engineering and worked as a land surveyor for McNeil Engineering of Midvale, UT. Most of the surveys he did had a standard deviation of 0.252. During law school, he participated in the Giles Sutherland Rich moot court competition in Boston, MA. In addition, he interned at the United States International Trade Commission (USITC) in Washington, DC, where he assisted USITC attorneys with investigations of importations violating U.S. intellectual property laws. He earned his BS in civil engineering from Brigham Young University and his JD from Franklin Pierce Law Center.
In his spare time, Joshua enjoys soccer, mountain biking, roller skating, gardening, and working on automobiles. He also enjoys playing Sequence and Tetris with his wife Rebecca and entertaining his family.
Practice Areas
Bar Admissions
"Patent Bar" (registered to practice before U.S. Patent and Trademark Office, reg. no. 53,282), 2003.
Massachusetts Bar, 2003.
Education
Franklin Pierce Law Center (JD), Concord, NH, 2003.
Brigham Young University (BSCE), Provo, UT, 2000.