If you choose not to decide, you still have made a choice.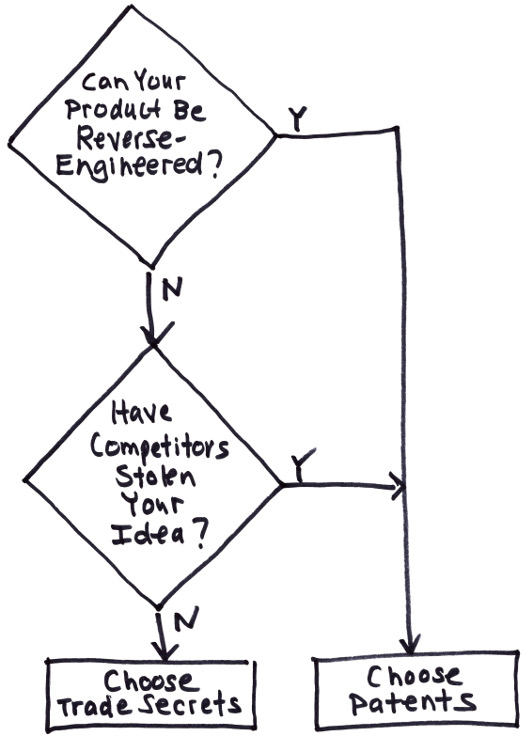 In the early days of Clocktower, a startup founder contacted me and told me that he had $250,000 to spend on patents, as directed by his board of directors. (Protip #1: Don't tell patent lawyers your budget, because most of them will spend it.) He said that his company made high-temperature paint-like coatings for industrial applications.
"Tell me more," I said, because I knew enough (from MIT 3.091) about chemistry to know that polymers change materially when they go from a "liquid" to a "solid" form. So I asked him, "Can these polymers be reverse-engineered?" "No," he replied.
My next question was: "How much do you pay your lead chemist?"
I then explained that he should (1) make sure that his lead chemist is paid well, (2) that he should have strong nondisclosure and invention-assignment agreements in place, (3) that he should tell his board of directors to pound sand (protip #2: don't take patent advice from your board of directors), and (4) that he should adopt a strong trade secret policy. This way, his company could own the intellectual property potentially forever (choosing trade secrets, like the Coke secret formula) rather than for about 20 years (choosing patents).
Plus I saved him a quarter of a million dollars. You're welcome.
As the above drawing illustrates, trade secret protection is often best when your product cannot be reverse-engineered by virtue of its launch (where "launch" means selling it, offering to sell it, publicly using it, or publicizing it).
One notable exception relates to another client, who had initially chosen trade secret protection. The client made electronics for the boating industry: sonar fish-finders and the like. Except that a foreign competitor kept stealing their ideas, patenting them, and coming back to our client for a license! (This was before prior-inventor rights were codified in the 2013 American Invents Act (AIA).)
I advised this client to file a patent on something, anything – but with a huge written disclosure of everything that they had previously invented (the patent specification). I call this a "tip of the iceberg" patent, because something large is being disclosed, but something small is being patented. The real purpose of a "tip of the iceberg" patent is to get your prior inventions into the prior art, because the patent office is best at searching patent documents. This strategy should stop the cycle of competitors stealing/patenting your ideas.
Finally, the subtitle of this article is a reference to a 1980s Rush song:
* Freewill by Rush (1980s)
https://www.youtube.com/watch?v=urBpdyFCZmo
It is also a reminder that both actions and inactions have consequences. And whichever patent strategy path you choose, you should choose it intentionally, not accidentally. Don't let ignorance choose the path for you, make an informed choice.
For Your Consideration
This and other articles about patent strategy are in the patent law 101 category herein:
See also the trademark law 101 category herein:
---
Since 2001, Clocktower has been laser-focused on #patents and #trademarks for #startups. Since 2001, 38 Clocktower clients have been acquried at a total valuation of over $6 billion. Since 2001, zero clients have fired Clocktower and then gone on to be acquired by a public company.